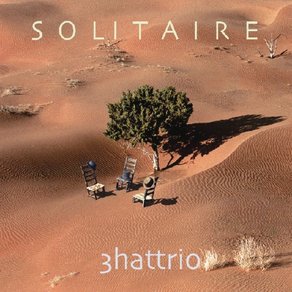 Most readers are probably aware of the idea that a harsh urban environment helped shape the tough Chicago and Detroit blues sound of the 40s and 50s. In sharp contrast, 3Hattrio's inspiration comes rather from the expansive desert spaces of south-west Utah and it does not need a romantic streak to hear this setting in the band's sparse, wide-open sound.
Hal Cannon supplies some fine chugging banjo, guitar, and mandolin playing, Eli Wrankle plays an expressive fiddle (listen to his work on Rose – and he is certainly not a conventional player) and Greg Istock is on vocals, bass and foot-stomping. The overall sound of the album then is Americana rather than blues, but deeply heartfelt and certainly qualifies for a definition of American roots music.
This is the band's third album (the first was Year One in 2014, the second Dark Desert Night followed the next year) of what they themselves call American desert music. Most of the songs are originals but Bob Marley's Get Up Stand Up is transformed – quite stunningly – in an almost Appalachian traditional number, and the album's only other non-original actually is traditional, a version of Bury Me Not, to close out the set. This is a formally sung cowboy ballad (also known as The Cowboy's Lament), a little in the vein of Burl Ives, but with a backing that combines Americana and electronica –certainly interesting and different, a description that can just as equally be applied to the album as a whole.
NORMAN DARWEN